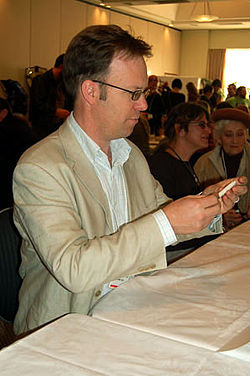 Garth Nix is an Australian author of young adult fantasy novels, most famous for his Keys To The Kingdom, Seventh Tower and Old Kingdom book series.
Biography
Garth Nix was born and raised in Canberra, Australia. Subsequent to a period working for the Australian Government, he traveled in Europe before returning to Australia in 1983 and undertaking a BA in professional writing between 1984 and 1986 at the University of Canberra. He worked in a Canberra bookshop after graduation, before moving to Sydney in 1987, where he worked his way up in the publishing field. He was a sales rep and publicist before becoming a Senior editor at HarperCollins In 1993 he commenced further travel in Asia, the Middle East and Eastern Europe before becoming a full time marketing consultant, founding his own company Nix Evans Proprietary Ltd.
Keys To The Kingdom
One of Garth Nix more famous book series is Keys To The Kingdom Series. It has seven books, Mister Monday, Grim Tuesday, Drowned Wednesday, Sir Thursday, Lady Friday, Superior Saturday and Lord Sunday. It is about a young boy named Arthur Penhaligon and his battle to gain control of the House as the Rightful Heir.

Community content is available under
CC-BY-SA
unless otherwise noted.